I've been really missing this place, and missing getting my Baja Bug dirty!!! I've been really super duper busy, as most of you guys know, with this crazy dream of trying to start a VW parts business. It's been fun, but it's been really time consuming, and for anyone who wants to start their own business, I have this one piece of advice: Be prepared to sacrifice your entire life for awhile until it gets going. For those of you who have done it already, you already know what I mean. The day's not done at 5PM anymore. No more punching a time card and enjoying life. The day is done when you're done working, which can mean well into the wee hours of the morning. It really bums me out that I haven't been able to participate with the group that I worked so hard to help get going. It absolutely kills me.
That's the price of trying to fulfill a dream, I suppose. With any luck, it will only be temporary.
You guys all know the story: I started trying to do this as a side thing to help finance my VW projects while the economy slowed, and my paycheck from my day job got cut about 35%. I started with $300 and headed for the swap meet to buy a few carbs and some other stuff that I could put a little work into, and maybe turn a small profit on. Little by little it grew to where I was working 40 hours at my day job, and 40 hours at this every week. I hired Justin (AnimalLoverM80) to help when I was gone at work, which was a real blessing. The guy's got huge talent! Then Chad, or "Golden Jackstands Award" record-holder was working here and there, as needed. One thing led to another and Justin needed to move on, so I got another guy who many of you met, David. He worked out great for awhile, and just when we were getting going, my boss who I'd worked for for 15 years called me in his office crying, and told me he had to downsize, and I was the next guy that needed to be cut.
Quite a shocker.
I decided to try my best to go forward and try and make this a career, start a real shop, and see what happened from there. I've had several job offers, good ones in fact, but I decided to try and fly this thing, as it already had a head start and it was off the runway already. Sometimes, ya just gotta do things in life, ya know? So David and I kept going, and I hired another guy, Miguel. We've had a few more guys come in and out, but basically the three of us pretty much tried our very best to grow the business. We did some things right. We did some things wrong. We grew and grew with the hope that some day we'd try and jump from working out of my garage into a new place, and grow the business into one where we could really be official. Since we started, we grew and grew until we became one of EMPI's top 50 dealers, worldwide. We have established great business and sales records for many suppliers that we represent, including Scat, Latest Rage, IAP, IMC, etc. We're trying to grow this thing a little at a time, always reinvesting the little money we made during good times back into the company to bring on new products to better serve our customers, which have grown to almost 1400, now!
All this time, we've been looking at properties, and dreaming of becoming a "real" kinda place to shop for VW parts, dreaming and working toward and end goal, busting our butts every day.
A couple of months ago, David decided he was moving on, so Miguel and I kept the dream alive. We hired BajaPete (who was a real blessing, by the way), but it was too long a drive for him, so that didn't work out. I'd recommend him in a heartbeat to anyone who needs to hire a hard worker, BTW. Good dude. So Miguel and I have been plugging away for awhile now, getting a little further behind, but still managing.
Then it came.....
A place became available that's literally around the corner from my house. It's five houses down, and on Walnut Street, one of the busiest streets in Pasadena that has about 10,000 cars a day drive by. It's quicker to walk there than to find my keys and drive there. The lease was affordable. The commute was terrific. The store is on a corner lot with a perfect location. The shop was of a size we could work within. The layout was do-able.
We took it.
Last Friday, we signed a lease. Saturday, with the help of MisfitMark (a complete God-send), and Brian [also a member here, and truly one of the best guys I know), we painted the interior Saturday. My kids and I painted the exterior Sunday, and here's what it looks like, as of this morning:
OUTSIDE: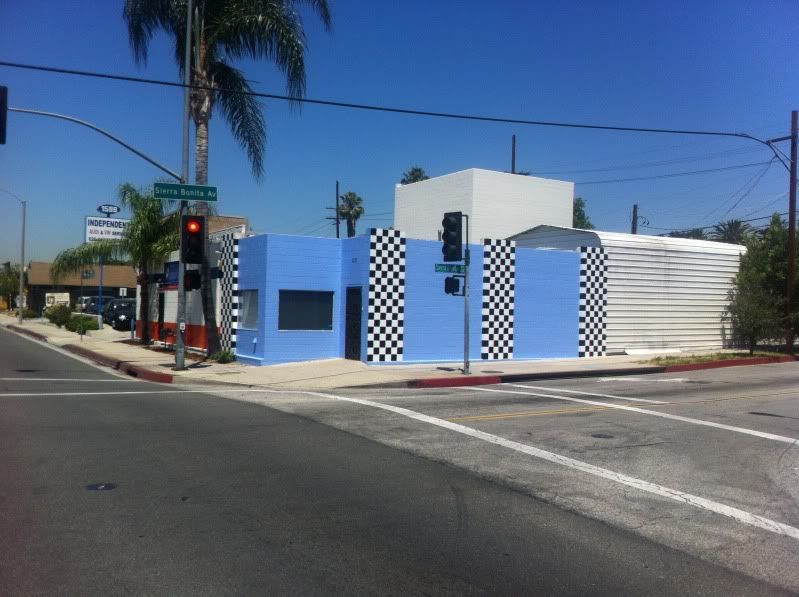 INSIDE: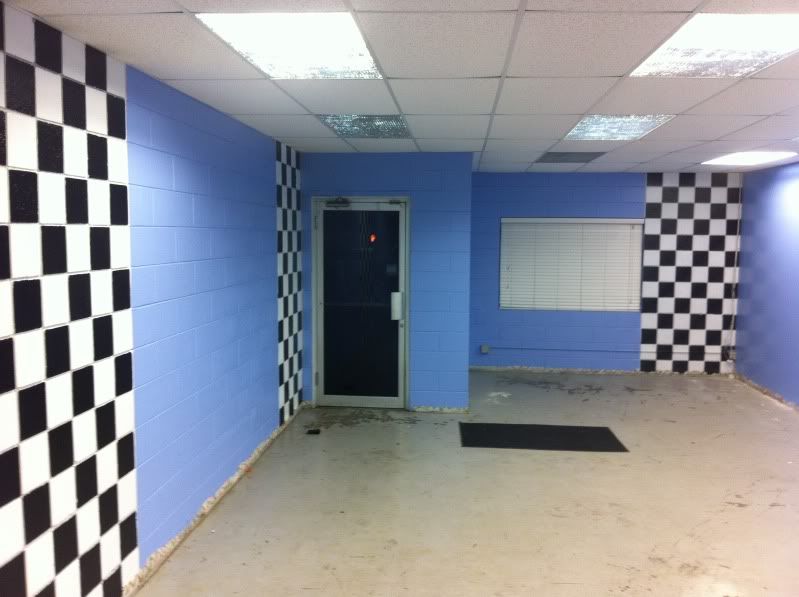 We're really stoked, and we're going forward.
Truthfully guys, I really don't have the money, the time, or the courage to go forward with this. Somehow, I'm trusting that God has a plan and somehow this is going to work out. It's completely and totally terrifying, to be quite honest. However, I do know that this will be my one and only chance to do it, so I'm putting one foot in front of the other, and walking out into the darkness. We're doing every possible thing we can do to get this going, including refinancing everything I own, possibly selling some of my VW's, and whatever else it takes to move forward.
This is our only shot.
I've had a tremendous outpouring of love and support from the few guys I've told about this, and I really, really appreciate this. We're going to have to bust our butts (as if we didn't have enough things already on our plate) to get this thing up and running. I ordered flooring today that will need to be installed, and set up our store fixtures to be set up for delivery. I have our slatwall located and set up for pick-up that will need to be installed. I'm doing the artwork for the signage that will soon be painted. I have some lighting that will need to be hung. I've got a blueprint of a workbench and a shipping and receiving bench that will both need to be built. All of this stuff will need to be up and running before we can move forward. After that, we might need some help to move all of our shop equipment, toolboxes, and inventory to the new location.
There's just a ton of stuff that needs to be done.
Of course, this all needs to be financed somehow, as well.
If anyone has anything for their VW's they need from me, please let me know. I'll do my very best, as always. If anyone can lend a hand with the things we need to have done, I'd be truly appreciative. I've always done my very best to help everyone I can, and quite frankly, it's really hard for me to ask for help. However, I could really use some love from the VW community right now, myself. If anyone has anything they can contribute, please give me a buzz 714-752-3766 or my personal cell, which is in the Directory... or email me at
[email protected]
NO PM's... I just can't get to those at the moment, unfortunately.
Thanks guys!
I really appreciate this.
I'll be back in the dirt with you soon. I promise!!!!